How to visit this 20-acres land for sale in Okanogan, WA?
To visit this 20-acres land for sale in Okanogan WA, search McLaughlin Canyon Rd, Tonasket, Washington, 98855 within Okanogan County on your phone. When you are near the land, search "48.63504, -119.41858" on Google Map to locate one of the corners. Contact our office for surveys (if available), county plat maps, Google Map boundaries and corners, and MapRight.
Gate Entrance to private road / easement: 48.632084, -119.419994
Northwest Corner: 48.63683, -119.41962
Southwest Corner: 48.63341, -119.41954
Southeast Corner: 48.63339, -119.41708
Northeast Corner: 48.63678, -119.41708
STEP 1: Navigate to Gate Entrance: Google Map Link
STEP 2: Navigate to Land through private road / easement: Google Map Link
Corner and Boundaries: Google Map Link
(when you are near the land, click this link on your phone to open Google Map, the RED BOX shows the land boundary, the FLASHING BLUE DOT shows where you are standing)
This land has dirt roads and easements. We suggest using all-wheel-drive or 4-wheel-drive vehicles to visit the property.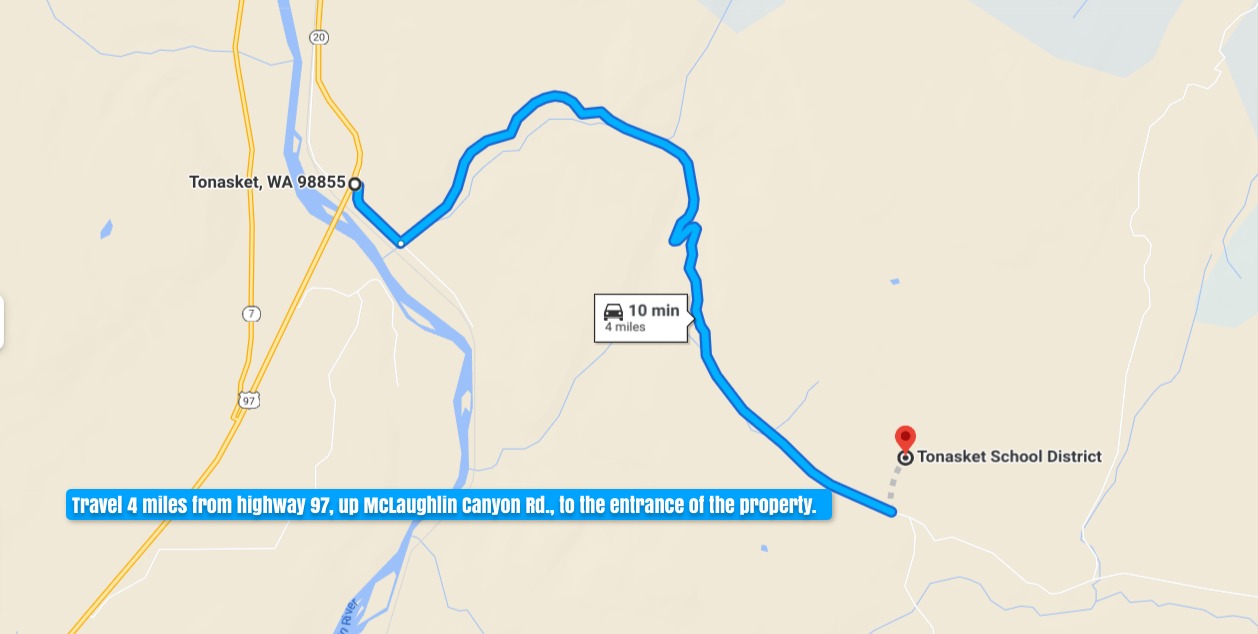 Purchase Closing
We provide the best Buyer Protection on your land title.
Cash Buyer will receive a Warranty Deed.
Seller Financed Buyer will receive a Warranty Deed + Deed of Trust.
No fees for Buyer if closing in-house. Buyer responsible for current year and subsequent year property taxes.
Land Details:
Elegment ID: LLP_WA_Tract-A
Address: McLaughlin Canyon Rd, Tonasket, Okanogan County, Washington, 98855
GPS: 48.63504, -119.41858
Parcel Number: 3627111002 (West 1/2)
Size: 19.50 Acres
Dimension:

593 ft x 1432 ft

Title:

Free & Clear, Warranty Deed

Zoning

: Resource – Agriculture Current Use

Terrain

: Slightly sloped, large wash cutting across from East to West, Rocky cliffs to the north and south sides of the wash, flatter terrain on the southern end of the parcel.

Taxes

: $33.44 per year

POA:

 None

Road

: County Maintained Road To Dirt Road (Easement in place)

Electric: by Solar, or electric service provided by Okanogan Public Utility District (buyer to verify connection cost)
Water: Water Delivery. See Details Below.

Sewer

: Need septic tank

Phone

: Cell

Internet

: Starlink Satellite Internet

Trees:

Some, Clear view

FEMA Flood Zone:

No FEMA data for this area; this property has 2 seasonal riverine systems running through it.

RV's:

 No restrictions on RV's tabbed for road use, permanent placement requires permitting through the County

Mobile Homes:

 Mobile homes allowed with permitting

Camping:

No restrictions on camping

City Limit:

 Property is OUTSIDE of city limits of Tonasket, WA



20 Acres of Land for Sale in Okanogan WA – Your Hunting Paradise
If you're seeking your own slice of paradise, look no further! Explore the perfect 20-acre plot of land for sale in Okanogan, WA, which comes with exclusive deeded access to 768 acres of unrestricted BLM land. This prime hunting ground boasts an abundance of mule deer and other sought-after game animals. Reserve your forever hunting paradise now before they run out – act fast!
Spectacular Views and Convenient Access
Prepare to be mesmerized by the breathtaking views that encompass this Southern sloping parcel. Enjoy excellent access year-round, immersing yourself in the full experience of afternoon sunlight. Two seasonal riverine systems flow through the property, providing the best potential for well drilling should you ever desire one.
Furthermore, the main road running through the West side of the property ensures convenience and accessibility. Utility easements to the power lines on McLaughlin Canyon Rd are already in place, making this land an ideal choice for your dream house, ranch, vacation home, or weekend retreat.
Endless Possibilities for Construction
The best part about this property is its complete lack of restrictions. Whether you envision a traditional site-built home, a cozy hunting cabin, or bring your mobile home or tiny home, the choice is yours.
Camping with tents or RVs is permitted throughout the year, allowing you to immerse yourself in the beauty of nature. This versatile property is perfect for creating a lasting legacy for your family, ensuring that you pass down the joy of land ownership for generations to come.
No HOA
Livestock is permitted on the property.
No Minimum building size, building permit required. 
No restrictions on camping 
Water: 325 Gallon ($400) and 2,500 Gallon ($1,500) tanks available for purchase at nearby Tonasket Ace Hardware, Lee Frank Mercantile (509) 486-2105. Also sell water @$651 per 500 Gallons.
Electricity: Need solar, or electric service with utility easements are in place to the power lines located along McLaughlin County Rd and provided by Okanogan Public Utility District. Call for cost estimates of getting power to your property. – 509-422-3310
Satellite internet services: Provided by Hughes Net & Viasat
Excellent Cell reception allows for cellular hotspot internet services
Curbside Trash Service: by Upper Valley Disposal Call (509) 476-3910
Tonasket School District : Elementary, Middle School, & High School
Nearby College: Wenatchee Valley College
Easy Access to Charming Towns
When you feel like venturing out, take a short 15-minute drive to the nearby charming town of Tonasket. The journey is an unforgettable one, offering glimpses of the serene Okanogan River between distinguished rock formations as you approach the main highway. In Tonasket, you'll find all the amenities you'd expect from a small town, including stores, schools, restaurants, and hotels.
For anything else you may need, the city of Omak is only 30 minutes South on the highway, ensuring you have easy access to everything you require.
Check out this video to hear about Todd's off-grid cabin on a nearby parcel and his experience buying from Elegment Land.
Exclusive BLM Land Access for Thriving Hunting Opportunities
Embrace the ultimate hunting experience with 20 acres of land for sale in Okanogan, WA, located within the highly coveted District 6 Game Management Unit (GMU) 204. This exceptional property grants you Exclusive Deeded Access to a sprawling 758 Acres of BLM land, bordering the northern boundary of this community. Prepare for unparalleled hunting opportunities and a chance to be part of the thriving wildlife in the region.
A Hunter's Paradise
District 6 is renowned for supporting one of the largest migratory mule deer herds in the state, making it a paradise for hunting enthusiasts. Okanogan County has earned a well-deserved reputation for its exceptional mule deer hunting opportunities, particularly in GMUs 204 and 215.
The deer management objective in District 6 is to maintain stable to modestly increasing populations, ensuring a balance within social tolerance limits for nuisance and damage issues. For more detailed information on hunting prospects in Okanogan County District 6, you can refer to the Hunting Prospects Guide.
Hunting Opportunities in Washington
Obtaining a hunting license in Washington is a straightforward process, welcoming both seasoned hunters and newcomers alike. There are no age restrictions for hunters; however, those born after 1972 must complete a hunting education class. Additionally, children under 8 years old are required to undergo an in-person field skills evaluation, available for a nominal fee.
Furthermore, individuals with disabilities have the opportunity to obtain licenses and tags at a reduced rate, ensuring that everyone can partake in the hunting adventures this magnificent state has to offer.
Diverse Wildlife and Natural Habitats
This property offers more than just fantastic deer hunting. Black bears have also been observed on the land, adding to the allure of this natural haven. Moreover, the area is home to the majestic Golden Eagles, which nest among the trees and rocky bluffs year-round, providing an awe-inspiring sight for nature enthusiasts.
Okanogan County boasts an abundance of wildlife, with over 200 species of birds and high numbers of butterflies thriving due to the ideal natural habitats and waterways surrounding the property. For more information please take a look at the Tonasket & Okanogan County Hunting Information report we've put together which includes links to the 2020 Washington Guides for Big Game, Fishing, Birds & Small Game.
Traverse the Enchanting Landscape
Embark on a journey through an extraordinary landscape, shaped by ancient glaciers and volcanic activity, that offers a wide array of climate conditions. From dry and warm summer days, caressed by Southern winds, to the colder arctic air flowing south from Canada, the terrain in Washington presents a captivating blend of natural wonders.
If you yearn for a hunting experience that encompasses diverse environments all in one place, you'll undoubtedly find each trip to the field truly memorable.
Lakes and Rivers
The Okanogan River spans 115 miles south towards the Columbia River system which feeds West into Lake Pateros and East towards the Grand Coulee Dam. Along the way, you have many lakes to choose from, including the Conconully Reservoir, Lake Omak, and hundreds of additional smaller lakes waiting to be explored.
Just 20 minutes North, visit Osoyoos Lake, which exists on the border of Washington and British Columbia. Maritime activities like boating, water-skiing, and fishing are available, as well as many hotels and resorts.
You're never far from adventure.
Winter Activities
You have 5 nearby ski runs within an hour's drive to choose from, and a little farther to the North, premiere Canadian skiing and snowboarding await. If you're more into ATV's and Snowmobiles, you can do that too, with rental agencies that deliver and 400 miles of groomed trails within the county. Check out the Okanogan Snowmobile Guide for more information.
Nearby Cities & Points of Interest
We've put together a complete google list of activities for your convenience: [Click Here]
15 Minutes to Tonasket, WA
30 minutes to Walmart Supercenter
30 minutes to Omak City
32 minutes to Wenatchee Valley College North
36 minutes to Sinlaheken Wildlife Area
37 minutes to Okanogan Valley Golf Club
38 minutes to Conconully Lake
38 minutes to Lake Osoyoos and Canadian Border
40 minutes to Bannon Mountain Trailhead
44 minutes to Omak Lake
48 minutes to Fourth of July Trailhead
1 hour to Loup Ski Bowl
1 hour 43 minutes to North Cascades Heli Skiing
3 hours 10 minutes to Spokane, WA & GEG International Airport