How to visit this 4.16-acres lot for sale in Sumter, SC?
STEP 1: Search for this address 2715 Horatio-Hagood Rd, Rembert, SC 29128, the property is just across the street.
STEP 2: Corner and Boundaries: Google Map Link
(when you are near the land, click this link on your phone to open Google Map, the RED BOX shows the land boundary, the FLASHING BLUE DOT shows where you are standing)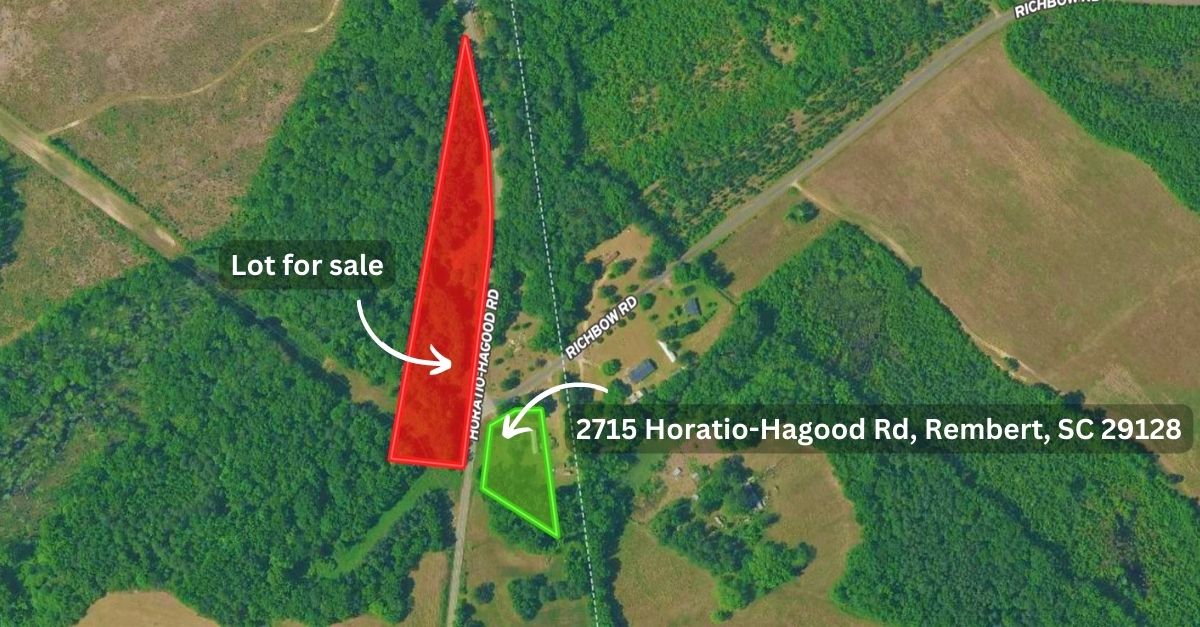 Seller Pays the Closing Costs and Title:
Seller will pay for the Title Insurance – No Cost to Buyer
Seller will pay for the Closing – No Cost to Buyer
Seller will pay for the recording fees, taxes and SC Attorney Fees
Seller will provide a Warranty Deed
Land Description:
Cash Price: $49,900
Owner Financing Available. $6,900 down, then $568.25 per month for 120 months (plus $26 / month service fee)
10 minutes to General Thomas Sumter Memorial park
18 minutes to Wateree river heritage preserve
22 minutes to Sumter South Carolina
46 minutes to Colombia, South Carolina
56 minutes to Lake Marion
1 hour 56 minutes to Charlotte, North Carolina
2 hours 20 minutes to Myrtle Beach, South Carolina
This beautiful 4.16 acre lot features 1,200 feet of road frontage along Horatio-Hagood road. Zoned in Agricultural (AG) Status allows the maximum amount of freedom available in South Carolina, which allows options for Mobile Homes, Manufactured Homes, Tiny Homes, Cabins, Ranches, Shops, and traditional builds. Crops, pasture land, Cattle, and Horses additional possibilities. Water & Power Utilities are available. A creek feeding the Wateree River runs behind the property.
New in 2023: This property has a recently completed soil survey and is perc-approved for a septic system so there won't be any guesswork when you're thinking of building. We have secured a DHEC Septic Install Permit from the state of South Carolina that is good for 5 years. This saves you time now more than ever, as it can take multiple months to get surveyors out to a new property to inspect and approve it and further many more months to get your DHEC Permit. With a lot of that work completed, you'll be able to start work significantly sooner. Another benefit is peace of mind, knowing that your property is perc approved and ready to build.
If you're looking to start a homestead in the country, this could be the perfect opportunity, allowing you to have livestock on the property, and giving you options on out-buildings.
This property zoning allows:
Mobile Homes
Manufactured Homes
Tiny Homes
Barndominiums
Greenhouses
Parks and Playgrounds
Storage Buildings, Private Garages, and Workshops
Single Family Residential
Conditional Uses (apply for a permit through Sumter County Planning Commission):
Mini-Warehouses
Solar Energy Systems
Convenience Store
Retail Nurseries
Commercial Trucking / Trailer Parking
Bed & Breakfast
Bars or Drinking Establishments
Setback lines for this property are 45 feet for the front yard, and 50 feet for the backyard. This property is over 180 feet deep from the road, meaning you'll have room to build without being too close to the setback lines.
All of the property is outside of the FEMA flood zone from the creek except for a 0.12 acre portion that is part of the power line easement.
Utility & 911 Addressing Information:
Electric Utility:  Call Black River Electric Coop at 803-469-8060. Members may apply for service by phone or in the office. Fees include a $5 Membership fee and a deposit if required. Deposits start at $200. Fees & amounts are subject to change. For more information, you can check their website.
Water Utility: Call High Hill Rural Water at 803-499-4118. Water Tap fees amount to $760. Fees & amounts subject to change
Sewer: Septic Installer in the area:
T & N Septic Tank Co, Inc.
Address:2140 Highway 521 S, Sumter, SC 29153
Phone # 803-481-2428 or 803-481-2421
(Website)
Soil Perc Test: Referral Below to order a soil report:
Davis Horizons – Professional Wetland Scientists
Ask for Tyler Sgro
(843) 484-5117
(Website)
Buyer is responsible for performing their own due diligence in researching the property for sale. All buyers should verify all information, contained herein or not, including access and utility accessibility and costs, and perform physical visits to the lot in order to satisfy themselves as to its accuracy. Seller is not responsible for any misinformation in this ad. All information is deemed reliable but not guaranteed. Property is sold "AS IS".
Land Details:
Elegment ID: WIN_SC_Sumter_Charles35623
County/State: Sumter County, South Carolina
Address: Horatio-Hagood Rd, Rembert, Sumter County, South Carolina, 29128
GPS: 34.03587, -80.56928
Parcel Number: 300001034
Size: 4.16 Acres
Conveyance: Seller to Provide Title Policy to Buyer. Seller pays Closing Costs
Annual Taxes: $120.36 / Year (approximate)
Annual HOA / PO: None
Nearby Attractions:
Wateree River Heritage Preserve: Google Map Link
Only 18 minutes from the property, you'll reach the Wateree River Heritage Preserve, a great place for locals to hike, hunt, fish, and access the Wateree River, which actually runs only 2 miles behind the property. Have fun exploring the river, catching fish, or hunting for deer and waterfowl when it's hunting season. Being so close to the property, you'll love coming back every weekend with your family.
General Thomas Sumter Memorial Park: Google Map Link
You don't have to drive into Charleston to learn about General Thomas Sumter, with the General Thomas Sumter Memorial park not far from the property. General Sumter was a revolutionary war hero, friend of the native peoples, congressman, and senator. Learn about his career, his impact on the nation, and so much more history at this iconic, peaceful destination.
Lake Marion: Google Map Link
is a beautiful lake less than an hour from the property and is the largest lake in South Carolina. This inland reservoir is known for its fully fresh-water striped bass population, and is popular with boaters and fishermen alike. Blue and flathead catfish were introduced in the 60s, and some anglers claim they've caught some of the largest fish of their careers in Lake Marion.
Local City Center(s):
This property is very centrally located and is less than an hour from the Capital of South Carolina, Colombia, offering nearly limitless options, including multiple Piggly Wigglys, Walmart, Target, Whole Foods, and more.
You'll only be 22 minutes from Sumter South Carolina, also offering Walmart, Aldi, and so much more.
This property is also easily reached from Charlotte, North Carolina, less than 2 hours away.
And you'll never be too far from the waves, with Myrtle Beach being only 2 hours and 20 minutes to the east, making for easy day trips to the Atlantic.