Are you looking for the best Texas land deals? As a buyer, you will need to do your due diligence on a piece of land before signing on the dotted line. In our latest post, we will discuss a few online resources an investor should utilize! We want to help local investors find the right properties!
When it comes to real estate investment, many people are going online to find the best available Texas land deals. Most of the information you need is public and can be accessed with a little digging. Below are 5 great places to find the information you need for some great Texas land deals.
Your Local MLS
While investors aren't likely to find the great deals on the MLS, it can be a great place to find sales information, market history, trends, and other data that may be more difficult to find elsewhere. An investor can see what is being bought and sold and where. Getting access to your local MLS isn't necessarily to find land for sale, but to get all the data on what is being bought and sold. It will make diving into the numbers much easier than trying to source all of the information on your own.
For Example:
Local Central Appraisal District (CAD) Website
The property appraiser's website for your county may offer maps, sales history, ownership information, and property tax data. Each county's site is a little different, so you might have to look around a little bit to find the data you need. You can also reach out to the county directly if there is something specific you are looking for and aren't able to find on their website. If it is public information, they will let you know how to find it.
For Example:
Google Maps Satellite View / Street View
Using Google Maps can bring driving for dollars into the modern age. While you can still find great investment opportunities simply by driving the neighborhood, you can now do the same thing using Google Maps. You can use the satellite view and street view functions to drop down into the neighborhood to see vacant land parcels. What types of businesses are in the area and even real-time traffic data. Learning these kinds of details about an area can give you an edge when making a real estate investment.
You'll want to make sure the images you view are relatively new. If the satellite images are a few years old, a lot may have changed. After checking the satellite view and street views on Google Maps, you can then go back to the County Appraisal District (CAD) website to look up land details and ownership information.
Zillow, RedFin, Realtor.com
Zillow, RedFin, Realtor.com are three great listing syndication websites for the novice investor. They are easy to use, and good to get the first-time buyers feet wet with real estate investment. The best feature these websites offer is to sort listings by unit price, either directly on their websites or using Excel/Numbers table.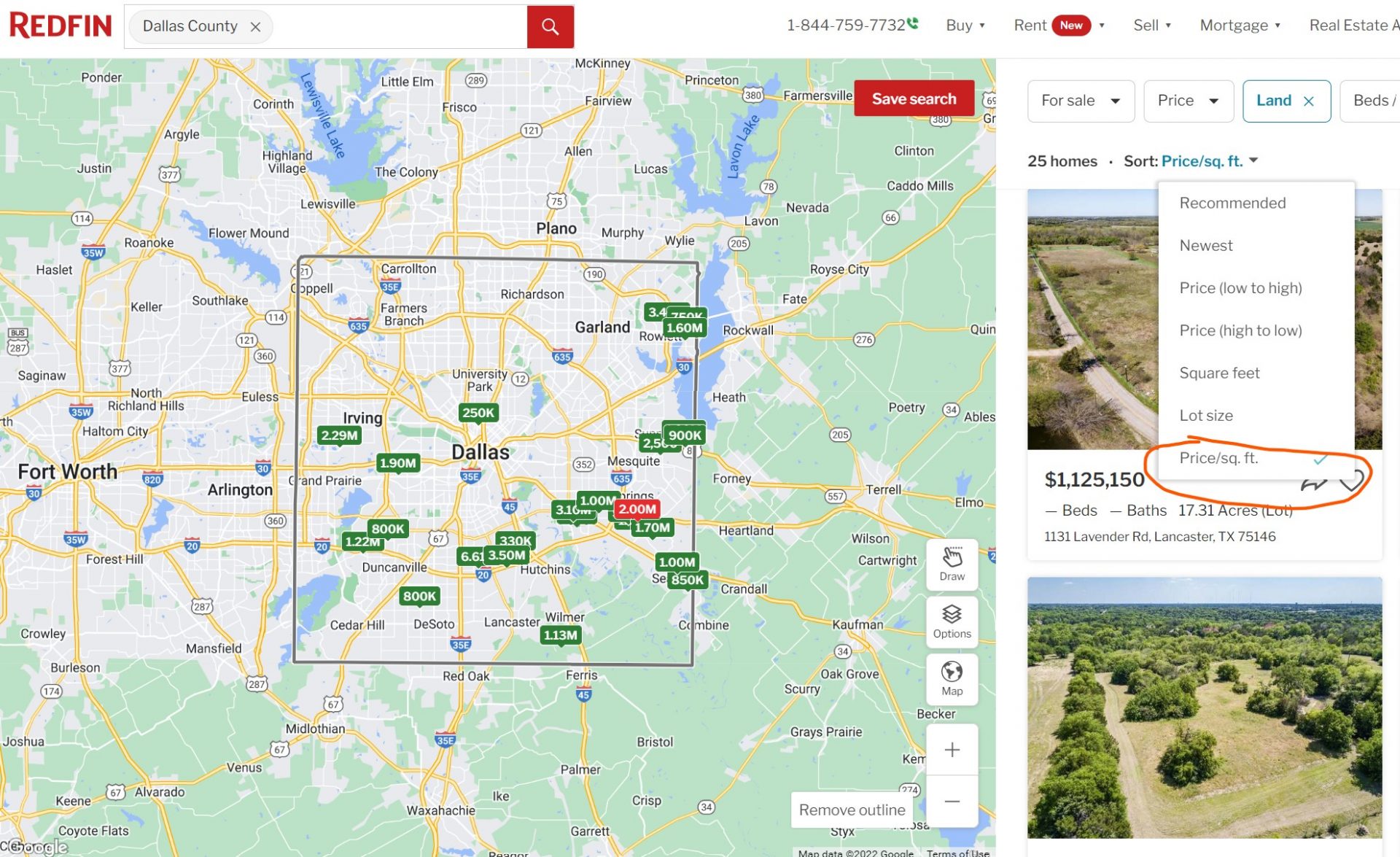 Refer to our blog How To Determine Land Value in Texas for detail on how to use these syndication sites effectively. You will want to keep an eye on your list and check constantly. Some great Texas land deals will pop up.
Local Realtor Online Listings
There are many local realtors with online listings out there for investors to find the best Texas land deals. Major real estate agencies all have local offices in major metro areas. Such as:
Bonus: Elegment Land Team
Elegment Land can help to answer many of your questions about buying investment properties in the Texas area. By utilizing our local knowledge and experience we will help you to find the best investment properties out there, without having to worry about agent fees or commission costs.
Are you ready to buy investment real estate? We have some of the best Texas land deals. Take a look at our current Texas Listing, or Contact us today!