Elegment ID: [woo_sku]
County/State: [woo_subcat], [woo_cat]
Address: Young St, Bullard, [woo_subcat], [woo_cat], 75757
GPS: 32.11522, -95.4325
Parcel Number: 532102000
Size: 0.09 Acres
Dimension: 50 ft x 80 ft
Title: Free & Clear, Warranty Deed
Zoning: Residential
Terrain: Flat with trees
Taxes:

$40.14

per year
POA Fee: $282.92 per year
Road: County Maintained Road
Electric: Cherokee County Electric Cooperative (buyer to verify connection cost)
Water: Southern Utilities (buyer to verify connection cost)
Sewer: Need septic tank
Phone: Cell or Landline
Internet: DSL, Cable Modem, StarLink
Trees: partially cleared at the front, wooded, secluded, privacy
FEMA Flood Zone: NOT in FEMA Flood Zone
RV's: Full-time RV is allowed
Mobile Homes: mobile home is allowed
City Limit: Property is OUTSIDE the city limits of Bullard, TX
Legal: LOT 159 BLK 3 LAKE PALESTINE SHADYBROOK 50X80 – BISD
STEP 1: Google Map for navigation: https://goo.gl/maps/PWAUXq6gmky1T5MCA

STEP 2: Corner and Boundaries: https://www.google.com/maps/d/u/2/edit?mid=1HGjrrGbzGgmG9QK-oriviH9N4wco1QTM&usp=sharing
(when you are near the land, click this link on your phone to open Google Map, the RED BOX shows the land boundary, the FLASHING BLUE DOT shows where you are standing)


Note: This is a private community, please call us for the gate code before your visit! (970) 420-2440
The Property:
Access Lake Palestine from your backyard! Shadybrook is a gated residential community on the southeastern shore of Lake Palestine in northern Cherokee County, where spectacular sunsets are renowned. Lake Palestine is a 26,000 acre lake providing many amenities such as fishing, sailing and water sports. It is located 20 miles southwest of Tyler, the medical center for East Texas . Dallas is 110 miles to the west and Houston 170 miles to the south. There are 1967 homeowners/lot owners at this time. Your future lake-house is waiting, walking distance from the shores of Lake Palestine in East Texas, and travel to Tyler (County Seat of Smith County) for shopping or a night out.
This land is Mobile Home and RV friendly! This property allows:
Full-Time RV Living (requires septic)
Part-Time/Recreational RV, Motor Home, Portable Camper, Travel Trailer, Mobile Camper camping (no need for septic)
Full-Time Mobile Home
Full-Time Manufactured Home
Full-Time Modular Home
Full-Time Single Family House / Site Build Home
General building code and land use information can be found here (LINK)
This land is already CLEARED in the front
… with all the Utilities below:
Electric: Cherokee County Electric Cooperative (buyer to verify connection cost, 903-683-2248, website)
Water: Southern Utilities (buyer to verify tap-in cost, 903-593-2588, website)
Sewer: Need septic
Phone: Century Link (website)
Cable TV: Century Link (website)
Trash Service: Republic Service (website)
… with all these OWNERS ONLY access to:
Boat Ramps

Fishing Piers

Tennis Courts

Basketball Courts

Swimming Pools

and Club House!

CLICK on the icons to see actual photos!
You will also enjoy all the amenities from Cherokee County, Smith County and City of Tyler. The beautiful community of Shadybrook is one of Texas's hidden gems, so you'll want to move quickly to secure your spot in this growing community.
Education:
Bullard Independent School District is noted for their educational excellence
A bus route K-12 runs through Shadybrook
Parochial Schools are available in the City of Tyler
A private school is available in City of Bullard
Advanced education is available with Tyler Junior College and the University of Texas at Tyler
Medical Care:
City of Tyler has three major medical centers. Two offer helicopter service
Twenty-four hour ambulance through East Texas Medical is available at Bullard Fire Station #2, just 4 miles from Shadybrook front gate
Trinity Mother Francis Medical Clinic is located at Hwy 155 and FM 344
Fire Protection:
Lake Palestine East Volunteer Fire Department is assisted by the Bullard Fire Department
Airport:
Tyler Pounds Regional Airport with frequent flights to Dallas and Houston
Shopping:
City of Tyler has the Broadway Square Mall and many excellent specialty shops
Brookshire's grocery and Noonday Hardware are on Hwy 155.
Lake Palestine:
Access Lake Palestine from your backyard! Located about 15 miles southwest of Tyler, Texas, on Texas Highway 155, the result of a dam on the Neches River. It has a surface area of 25,560 acres. It is the largest lake in the Tyler area. Lake Palestine offers something for everyone, with boating, skiing, and fishing all being popular activities. The lake is very popular for largemouth bass tournaments due to its consistent success. Both white bass and hybrid striped bass are present; white bass are particularly popular during their spring run up the Neches River and Kickapoo Creeks. Channel and blue catfishes are abundant and flathead catfish provide great opportunity for trophy-sized fish!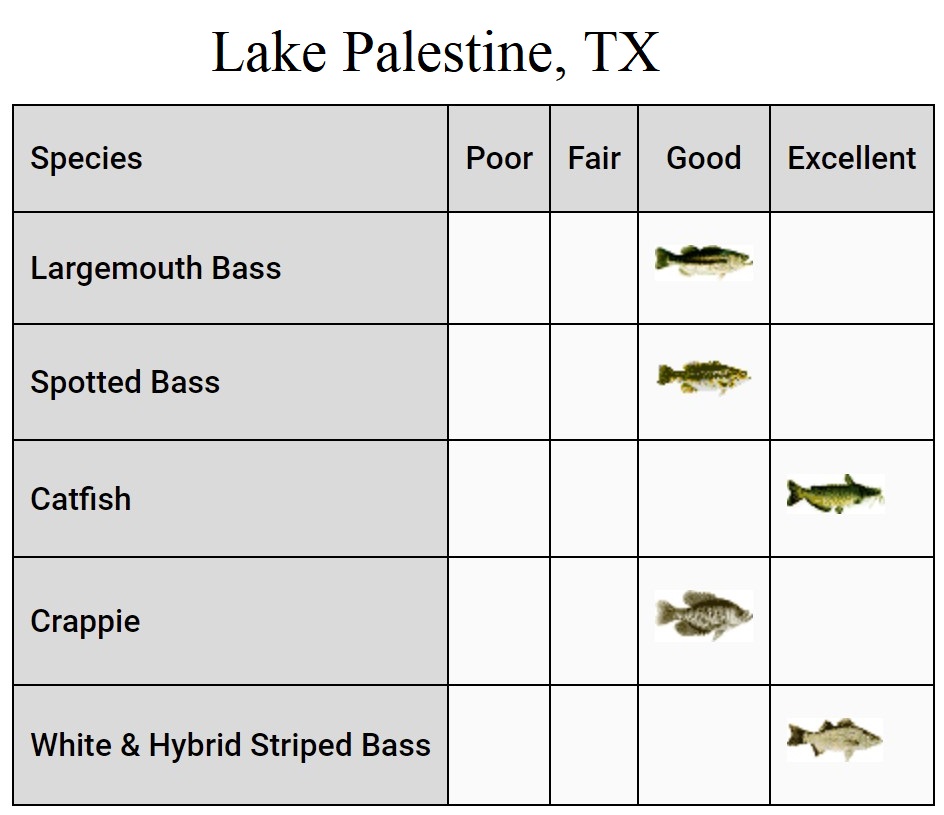 Nearby Cities & Points of Interest:
10 minutes to Brookshire's Recreation Park
14 minutes to Blackburn Bay
16 minutes to Eagle's Bluff Country Club
20 minutes to Bullard, TX
22 minutes to Lake Palestine
22 minutes to Bullard High School
24 minutes to The Brook Hill School
42 minutes to The University of Texas at Tyler Graduate School
30 minutes to Walmart Supercenter (Jacksonville, TX)
40 minutes to Tyler, TX
1 hour 56 minutes to Dallas, TX
How to visit the property?
Search GPS 32.11522, -95.4325 in Google Maps for Directions to the property.
Northwest Corner: 32.11524, -95.43259
Southwest Corner: 32.11502, -95.43259
Southeast Corner: 32.11502, -95.43243
Northeast Corner: 32.11524, -95.43243
You are welcome to visit a property anytime you like. Just Contact Us to schedule a time so that we can be sure the property is still available before you drive out to it. We operate an eCommerce land business, and we typically do not accompany property visits.