How to visit this 9.79-acre lot for sale in Costilla, CO?
To visit this 9.79-acre lot for sale in Costilla CO, search County Road 11, Costilla, Colorado, 81123 within Costilla County on your phone. When you are near the land, search "37.46834, -105.58031" on Google Map to locate one of the corners. Contact our office for surveys (if available), county plat maps, Google Map boundaries and corners, and MapRight.
Gate Entrance to private road / easement: 37.46831, -105.57819
Northwest Corner: 37.47191, -105.58141
Northeast Corner: 37.47191, -105.58028
Southwest Corner: 37.46835, -105.58144
Southeast Corner: 37.46834, -105.58031
STEP 1: Navigate to Gate Entrance: Google Map Link
STEP 2: Google Map for navigation: Google Map Link
STEP 3: Corner and Boundaries: Google Map Link
(when you are near the land, click this link on your phone to open Google Map, the RED BOX shows the land boundary, the FLASHING BLUE DOT shows where you are standing)

Note: This is a gated private road. Before your visit, please call our sales team (970) 420-2440 for gate code access.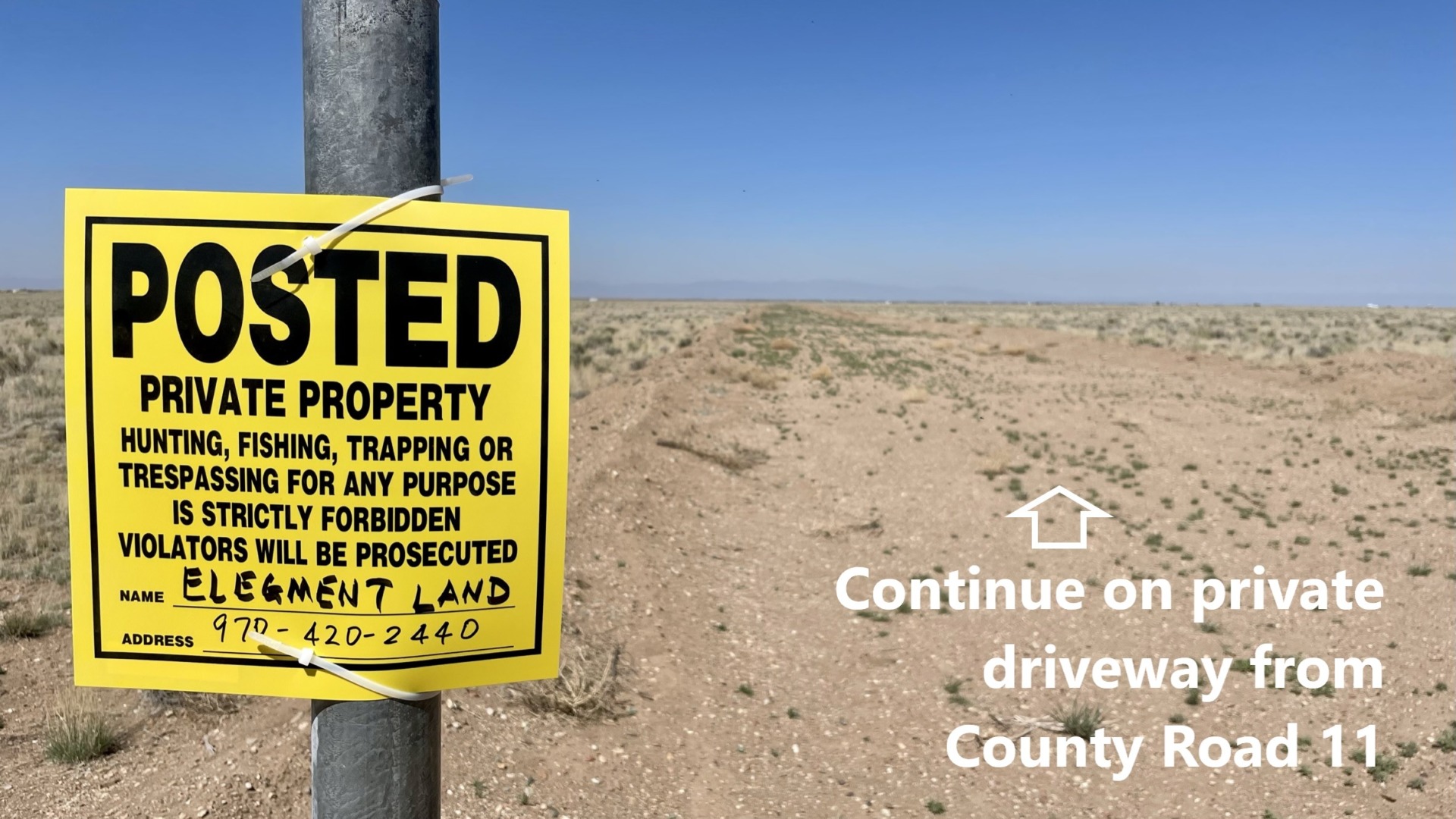 Land Description:
You will love this 9.79 acres parcel in the remote but easy accessible part of Costilla Country, Colorado. Very few neighbors in the Trinchera Colony neighborhood, and only 20 minutes from Alamosa, CO where you will find plenty of restaurants, banks, hospitals, grocery stores, hardware stores, schools, a Walmart, and Adams State University, etc. Many activities in the surrounding area – skiing, golfing, fishing, mountain climbing! A great place for a home or just to park your RV. There are lots of beautiful wild horses roam the county, Blanca Peak is almost directly in front of you, and Rio Grande River is only 20 miles west! There are so many outdoor recreations within a short distance of this land. San Luis State Wildlife Area is 1,691 acres of open space and is located just 30 minutes from the property. Activities here include four miles of gravel trails for hiking & mountain biking, Bird Watching, Boating, Fishing, Hunting and Camping featuring electrical hookups, grills, and a dump station. Find more information on the above activities here.
The San Luis Valley region comprised of Alamosa County, Conejos County, Costilla County, Mineral County, Rio Grande County, and Saguache County, with 46,000 population. The San Luis Valley region is known for its educational services, retail trade, agriculture, business & repair services, health services, entertainment/ recreation services, finance, insurance, public utilities, manufacturing, wholesale, trader, transportation, mining, construction and public administration.
This property is RV and manufactured home friendly:
No HOA, no HOA fees, no Time Limit to Build
Minimum dwelling size per the Costilla County Land Use Code is 600 square feet. Meaning tiny home is allowed!
Two homes allowed. A main house plus a mother-in-law house.
Single & Double Wide Mobile / Manufactured Home is allowed on the property:

Must be 1976 or newer
Snow Load: >30 lbs./square foot
Wind Load: >90 miles/hour
Costilla County Planning and Zoning (Link)

Short Term RV Camping: up to 14 days every consecutive 3 months (no permit needed)
Long Term RV Camping: up to 180 days per year with county permit, information can be found on Page 6 of Costilla County Residential Development Policy and Procedure
With the following utilities and public service:
Electric: the San Luis Valley has the strongest solar power resources in the state, the highest per capita concentration of home-based solar energy systems in the United States. The cost of solar system kits starts at about $1100 depending on size and usage. People also use gasoline power generators for back up, like when times call for using large power tools. Some neighbors installed both solar and wind generators
Water: A money saving option, if you don't want to drill right away, or if you're just using your land for vacation, you can haul your own water. You can fill a 500-gallon tank at the Alamosa Water Department for only $2.50 (Phone: 719-589-2593). The average well depth in the Rio Grande Ranches is about 150 feet. One of our photos shows average well depth by subdivision in Costilla County. Drilling costs about $35 per foot. Colorado Division of Water Resources (Link)
Septic: Septic system costs around $5,000 – $8,000 to install in the area.
Gas: propane is used for cooking, refrigerator and heat. Propane is delivered throughout the San Luis Valley. Most people also use woodstoves for heating. Abundant cheap firewood is available in the local forest.
Telephone / Internet: by cellular or satellite. Starlink (website)
Fire Protection: provided by the San Luis Volunteer Fire Department in Fort Garland.
Police Protection: provided by Costilla County Sheriff office in San Luis.
Education: Elementary, junior high, and high schools are located in all main towns in the valley. Adams State College is located in Alamosa. Small classes, low tuition and faculty dedicated to teaching have put this college on the exclusive list of America's 100 Best College Buys for three years in a row.
Shopping: Convenience shopping is available in Blanca, Fort Garland and San Luis and Alamosa has major shopping facilities. Walgreens, Home Depot, Farmers Markets, Walmart etc…
Land Details:
Elegment ID: LLP_CO_Trinchera_A22699
Address: County Road 11, Costilla, Costilla County, Colorado, 81123
GPS: 37.46834, -105.58031
Parcel Number: Part of 40002431
Size: 9.79 Acres
Dimension: 328 ft x 1301 ft
Title: Free & Clear, Warranty Deed
Zoning: Residential
Terrain: Flat
Taxes: $166.18 per year
POA: None
Road: County Road
Electric: Need solar/wind
Water: Need well (average well depth ~100 feet)
Sewer: Need septic tank
Phone: Cell
Internet: Cell/Satellite
Trees: some trees and shrubs
FEMA Flood Zone: not in FEMA Flood Zone
RV's: Up to 180 days per year with permit
Manufactured Home: manufactured home is allowed
City Limit: Property is OUTSIDE of the city limits
Entrance at Mountain View Road and Yampa Circle:
Costilla County, CO Recreational Areas:
Nearby Cities & Points of Interest:
5 minutes to Blanca, Colorado
17 minutes to Alamosa, Colorado
24 minutes to R&R Market
25 minutes to San Luis, Colorado
27 minutes to San Luis Airport
33 minutes to Los Fuertas, Colorado
42 minutes to Sanchez Reservoir
43  minutes to Twin Peaks / Blanca Peak
57 minutes to San Pedro Mesa
1 hour 1 minute to Panadero Ski Area
1 hour 7 minutes to Purgatoire Peak
1 hour 38 minutes to Pueblo, CO
2 hours 20 minutes to Colorado Springs, CO : Population 500,000 (more info)
3 hours 27 minutes to Denver, CO : Population 1 Million (more info)