How to visit this 2.52-acres lot for sale in Hughes, OK?
Cellular service in the area may be limited. To visit this 2.52-acres lot for sale in Hughes, OK, search Middle Creek #1 Baptist Church, 2817 N 389 Rd, Lamar, OK 74850 within Hughes County on your phone. Contact our office for the survey at (970) 420-2440, county plat maps, Google Map boundaries and corners, and MapRight.
STEP 1: Search for the Middle Creek #1 Indian Baptist Church (2817 N 389 Rd, Lamar, OK 74850): Google Map Link
STEP 2: Approaching from northbound, turn left at East-West 128 Rd, then right onto North-South 388 Rd. Approaching from southbound, turn left at East-West 128 Rd, then right onto North-South 388 Rd.
STEP 3: Here are the GPS boundaries for the corners and maps below for the property. However, we advise you not to search by these GPS coordinates. Follow our instructions going to the Middle Creek #1 Indian Baptist Church to get there.
Northwest Corner: 35.16176, -96.10802
Southwest Corner: 35.16132, -96.10802
Southeast Corner: 35.16133, -96.10623
Northeast Corner: 35.16176, -96.10624
Google Map for navigation: Google Map Link
Corners and Boundaries: Google Map Link
(when you are near the land, click this link on your phone to open Google Map, the RED BOX shows the land boundary, the FLASHING BLUE DOT shows where you are standing)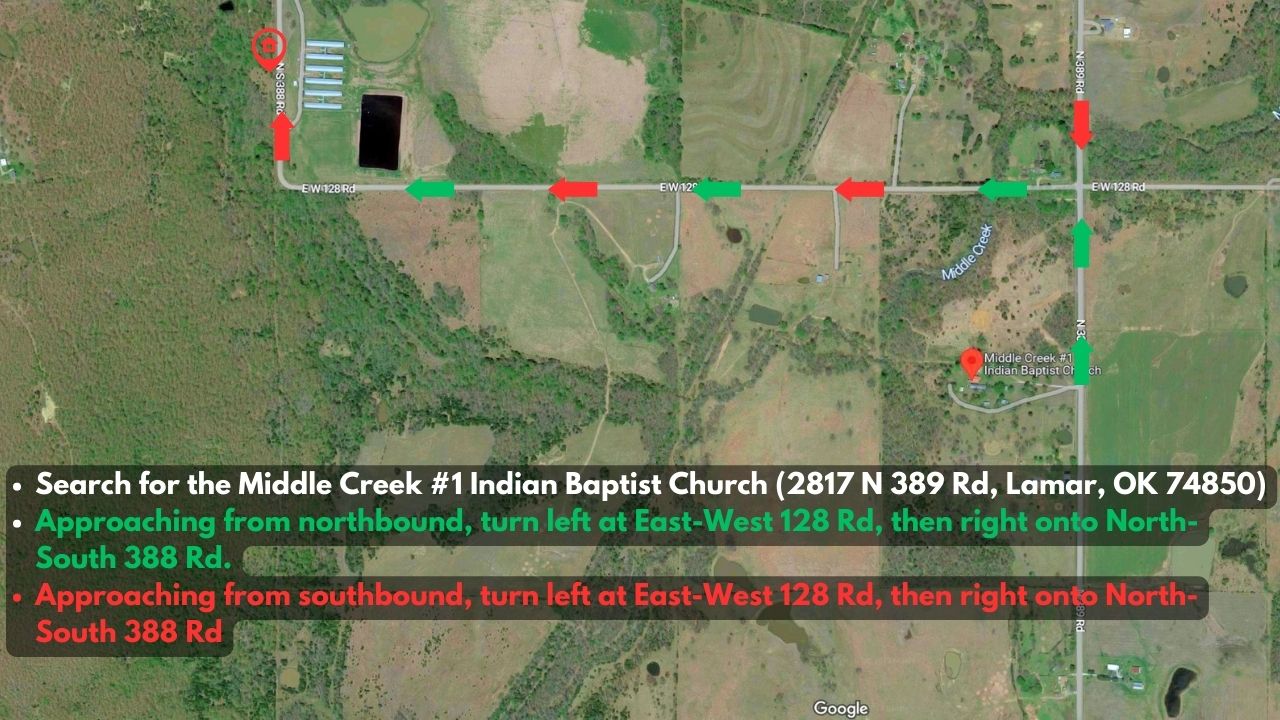 Purchase Closing
We provide the best Buyer Protection on your land title.
Cash Buyer will receive a Warranty Deed.
Seller Financed Buyer will receive a Warranty Deed + Deed of Trust.
No fees for Buyer if closing in-house. Buyer responsible for current year and subsequent year property taxes.
Land Description:
A spot has been carved out to immediately park your mobile or RV. This space will fit any RV, Fifth Wheel, and 10 x 40 Mobile Home. Take a look at our photos so you can see the work and boundaries of the property.
We set the homesite up above the road following the land's natural ridge lines to ensure excellent drainage and an elevated view of your surrounding brush privacy. Winter-time photos featured here show how the property appears after a fresh rain.
We cleared all of the brush (leaving trees > 6" in diameter), performed stump grinding, set a driveway with a road base and gravel finish, and roughly grade the land. The county has installed a tinhorn culvert for drainage at the road.
Easy access to extend electricity directly to your pad and water wells in the area are reasonable depth and price.
This is a great opportunity for you to own substantial property in the country, perfect for quiet vacation getaways, or a local recreational retreat for seasonal hiking, camping, off-roading, and hunting tours within 5-10 minutes of the property. This property allows:
Full-Time RV Living & Permanent Storage
Full-Time Mobile Campers (travel trailers)
Full-Time Portable Campers
Full-Time Motor Homes
Full-Time Mobile Homes
Full-Time Tiny Homes
Full-Time Barndominiums
Year-round Camping
No Time Limits on Building
This 2.52 acres lot for sale in Hughes OK, has access to power service through Canadian Valley Electric Cooperative, and an inactive water line runs near the property along SN388. Well Depths in the area average between 80 to 200′ deep. No Flood Zone, Property Taxes only $40 / year.
New Corner Stakes and Iron Pins have been set and flagged as of 2022. Electronic Copies of the Survey are available upon request in PDF.
Utility Information:
Power Utility:
Electric poles run along the road on both sides of the property. Call Canadian Valley Electric Cooperative at (405) 382-3680. To apply for a new service, you will have to sign the New Service Request Form on their website and attach any documents needed to start the request. Fees & amounts are subject to change. For more information, you can check their website.
Water Utility:
L and W Water Well Drilling
Address: 15822 US-177, Stratford, OK 74872
Phone #: (580) 272-8037
St. Louis Well Services
Location: St Louis, OK 74866
Phone #: (405) 289-3314
Loman Drilling Inc.
Address: 15609 S Rock Creek Rd, Shawnee, OK 74801
Phone #: (405) 273-4108
Sewer Utility:
Lehman Dirtwork
Location: Seminole, OK 74818
Phone # (405) 584-0925
Email address: moc.krowtridnamhel@ydnar
Website: http://www.lehmandirtwork.com/
Land Details:
Elegment ID: INC_OK_Hughes_Tipton06
Address: EW 128 Rd, Lamar, Hughes County, Oklahoma, 74850
GPS: 35.16133, -96.10623
Parcel Number: 0000-14-008-011-0-020-01 (Lot 6)
Size: 2.52 Acres
Electric: Canadian Valley Electric Cooperative
Water: Need well
Sewer: Need septic
Conveyance:  Warranty Deed
Annual Taxes:  $20 / Year (approximate)
Annual HOA / PO: None
The Property
Nearby Attractions:
RockyTop Ranch: Google Map Link
–  5 Minutes from the property, you'll find RockyTop Ranch, a popular game ranch offering Hog hunting, Deer hunting, turkey and Predator hunting. Folks from around the country travel to hunt at RockyTop, but you won't have to travel long to enjoy this great hunting opportunity.
Mill Creek Hunts and Hideaway: Google Map Link
–  A beautiful guided hunting ranch and bed and breakfast. They have hog and predator hunting, as well as lodging, and access onto the lake with great fishing.
Lake Eufaula: Google Map Link
– Is Oklahoma's largest lake, at over 100,000 acres! The lake is known for it's boat and boat house rentals, and you can always launch your boat from the many boat ramps. Visitors love jet-skiing, wake-boarding, and tubing, or if you want to take it slow, there are many great fishing spots, and annual fishing tournaments held here. You don't want to miss this lake destination, not far from the property.
Local City Center(s)
Henryetta is a great town only 30 minutes north of the property. Here you'll have everything you need. Shop for groceries at Walmart or Homeland, grab a bite to eat at one of the many local restaurants, and there's tons of other shopping in town.
This property is 1 Hour and 22 minutes to Tulsa, and 1 hour and 42 minutes to Oklahoma City.
Nearby Cities & Points of Interest:
5 minutes to RockyTop Ranch
33 minutes to Walmart
34 minutes to Homeland
34 minutes to Nichols Park
35 minutes to Henryetta Golf & Country Club
42 minutes to Mill Creek Hunts and Hideaway
46 minutes to Lake Eufaula
34 minutes to Henryetta, Oklahoma
1 hour 22 minutes to Tulsa, Oklahoma
1 hour 42 minutes to Oklahoma City